Emirates Airlines: Your pet-friendly partner in the sky
There is nothing as constant as change. People have been moving and migrating around the world for hundreds of centuries for different reasons, be it for better living conditions, education, family or a new job. When people move, it is inevitable their pets move with them. Pets are important family members, and more and more families are opting to relocate with their pets.
International pet transport is dependent on many factors – pet import regulations, airline regulations, pet health, and more. Choosing a pet-friendly airline is extremely important because the airline's policies determine the safety and comfort of your pet during travel.
Emirates SkyCargo is one of the world's best airlines, renowned for its pet-friendly policies. A global brand, Emirates is one of the most preferred airlines for live animal and pet transport.
Emirates Airlines: History and origin
Emirates Airlines was founded 38 years ago by the royal family of Dubai with help from Pakistan International Airlines, with just four aircraft in its fleet. Since then, the airline has grown prodigiously to become one of the most recognised airlines in the world, with a fleet of more than 250 aircraft flying to destinations in over 85 countries.
Emirates' very first flight was between Dubai and Karachi in 1985. The fledgling airline transported more than 250,000 passengers and 10,000 tons of freight in its very first year of service. After such a stellar beginning, the airline has never looked back. It quickly added more fleet and international destinations as the years went by, reaching 59 million passengers transported in 2018 to 80 different countries.
Led admirably by the Chairman and Chief Executive HH Sheikh Ahmed bin Saeed Al Maktoum and President Sir Tim Clark, Emirates Airlines is one of the few global airlines that has been continuously profitable for the last 30 years.
Emirates is renowned for innovation as the company believes in continuously investing in new technology and services. Emirates has several firsts to its name; it is the first middle-eastern airline to fly long-haul to Europe, the first airline to operate the Airbus A380, the world's largest passenger aircraft, and the first to have live TV and on-demand movies during the flight. During the COVID-19 pandemic, Emirates spearheaded the vaccine distribution movement by establishing the world's largest dedicated airside hub for COVID-19 vaccines at its cargo terminal in Dubai.
All these innovations and more have cemented Emirates' place as a world-famous global brand rooted in safety and service.
Fleet and network
Emirates Airlines operates a fleet of 269 aircraft, including the most Airbus A380s and Boeing 777s of any airline. With 158 destinations in 85 countries, Emirates offers travellers unparalleled connectivity and convenience. Emirates SkyCargo, the air freight division of Emirates Airlines, is the fourth largest cargo airline in the world in terms of total freight-ton kilometres flown. From Asia to Australia, Africa to South America, the Emirates network spans all continents and is truly a global airline.
As the airline expanded its fleet, it added more destinations to its network. After its maiden flight to Karachi in 1985, Emirates added London Gatwick, Frankfurt, Maldives, Bangkok, Manila, Singapore and Hong Kong to its network in quick succession. Soon, Emirates was the airline of choice on the lucrative Asia to North America route as more and more passengers realised they could fly to North America via Dubai instead of London, Paris or Frankfurt like before.
As the years rolled by, the Emirates fleet changed as more aircraft were ordered when the old ones retired. Currently, the Emirates fleet consists of two aircraft families – the iconic Airbus 380 and the reliable Boeing 777. Emirates has plans to expand the fleet further; it has the Airbus A350-900, Boeing 787-9 and the Boeing 777X on order. These aircraft will be added to the already extensive fleet as early as 2024.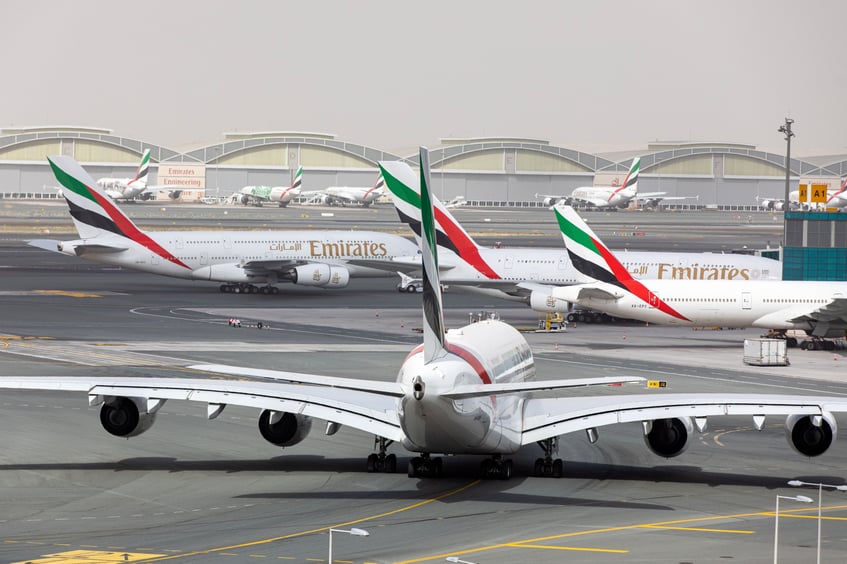 Pet-friendly Emirates
Emirates is the airline of choice for transporting live animals and companion animals across the world. The airline has developed a reputation for being safe, reliable and humane when it comes to pet transport.
Emirates Airlines flies pet dogs, cats, pet birds and falcons in the cargo hold of the plane. Pets cannot fly in the cabin unless it is a service animal or a falcon flying between Dubai and Pakistan. Pets fly in the specially-designed cargo hold and are offered the best care and services. The cargo hold is temperature-controlled and pressurised for a safe travel experience. Emirates does not have a limit on the number of pets that can fly at a time.
Emirates Airlines has state-of-the-art animal facilities in Dubai for pets during transit, with dedicated staff to make sure your pet is safe and well-cared for during the journey. The airline has a temperature-controlled facility in Dubai for pets flying to and from the UAE and pets transiting through Dubai. Your pet will be received with care, fed and watered. Pets will be given their medication or special food as specified during booking.
The transit care your pet receives in Dubai is the gold standard. IATA-trained staff handle all live animals, and veterinary service is available at the animal facilities 24/7 every day of the year. Every pet's timeline during transit is rigorously documented for transparency and safety. A specially designed temperature-controlled pet vehicle is used to ferry pets to and from the aircraft. Pets are always loaded last and deplaned first to ensure their safety and comfort.
Banned breeds on Emirates Airlines
Snub-nosed cats and dogs find air travel more stressful because of their short snouts. Emirates has a ban on all snub-nosed dogs and cats on their network unless they are flying direct to Dubai. The ban is for brachycephalic pets transiting through Dubai.
Snub-nosed dogs and cats with shortened or flattened noses are known as brachycephalic, snub-nosed or flat-faced breeds. These breeds have a higher risk of health complications during air travel because of their short snouts and compromised respiratory systems. This condition is called Brachycephalic Obstructive Airway Syndrome (BOAS), and breeds with BOAS are prone to overheating and have trouble regulating body temperatures during travel. BOAS is an umbrella term coined by vets for anatomical abnormalities in a snub-nosed breed characterised by narrow airways, elongated soft palate and a narrowed windpipe.
Since brachycephalic dog and cat breeds have smaller airways, it makes them vulnerable to respiratory problems even under normal circumstances, and these problems are likely to be heightened during air travel. Breathing difficulties are considerably higher in warmer conditions and are more prevalent in pets that are stressed because of the unfamiliar environment and when they are not crate-trained well. These breeds find it harder to regulate their temperature during the fight, and that's why they are considered high-risk.
However, not all snub-nosed dogs or cats are affected by BOAS. An experienced vet can differentiate between a normal brachycephalic pet and one affected by BOAS. Pets severely affected by BOAS are considered unfit for air travel and must not be allowed to fly. Your vet will have to refer to the brachycephalic breed fit-to-fly checklist by APATA to make the assessment.
Popular snub-nosed dog breeds are Bulldogs, French Bulldogs, Pugs, Shih Tzu, Pekingese, Boston Terriers, Japanese Chin, some Mastiffs, and Griffon Bruxellios. Popular snub-nosed cat breeds are British Shorthair, Exotic Shorthair, Burmese, Scottish Fold, Persian and Himalayan Cat.
Emirates prohibits the following snub-nosed cat and dog breeds on board unless they are on a direct flight to Dubai:
| | |
| --- | --- |
| Dogs | Cats |
| Affenpinscher | British Shorthair |
| American Cocker Spaniel | Burmese |
| Boston Terrier | Exotic Shorthair |
| Boxer | Exotic Fold |
| Brussels Griffon | Himalayan |
| Bulldogs (all types) | Persian |
| Bullmastiff | Scottish Fold |
| Cavalier King Charles Spaniel | Selkirk Rex |
| Chihuahua (apple headed) | |
| Chow Chow | |
| Dogo Argentino | |
| Dogue de Bordeaux | |
| Japanese Chin | |
| King Charles Spaniel | |
| Lhasa Apso | |
| Lowchen | |
| Neapolitan Mastiff | |
| Newfoundland | |
| Pekingese | |
| Pitbull Terrier | |
| Pug | |
| Shar-Pei | |
| Staffordshire Bull Terrier | |
| Tibetan Spaniel | |
Travelling with a brachycephalic breed on Emirates
Emirates allows snub-nosed only on direct flights to Dubai. Before travelling on an Emirates flight with a brachycephalic breed, here are a few things to keep in mind:
Make sure your pet's crate is at least 10 per cent larger than the typically recommended crate size. A bigger crate is recommended for brachycephalic breeds since bigger crates are better ventilated. The crate must be ventilated on all four sides. The extra space translated to more room for your pet and improved airflow. Remember to get the crate several weeks ahead of the departure date and crate-train your pet to acclimatise them.
Remember to choose a suitable time to travel. Since snub-nosed breeds are naturally prone to overheating, international travel during the hot summer months is not recommended. Choose the most direct route during the coolest time of the day to fly with your pet.
Take your pet to the vet to make sure your pet is healthy and fit for air travel before making travel plans. Your vet will be able to assess your pet's brachycephalic condition and let you know if they are fit to fly. All brachycephalic breeds need a letter from the vet certifying that they are fit for air travel in addition to all the other veterinary documents required for international travel.
Pet parents must sign an indemnity form with the understanding that they are aware of the risks of air travel for snub-nosed breeds. Some pets react adversely to the stress and anxiety of being confined to a crate during travel. If your pet is unaccustomed to the crate, it is best to delay your travel till your pet's crate training is successful. This ensures a safe and comfortable journey for your pet.
Why choose Emirates for your pet?
Emirates Airlines has evolved into one of the most recognised airline brands in the world today. The airline is known for constantly striving to deliver the best experiences for its customers. Their commitment to quality, safety, and unmatched hospitality has earned the airline several prestigious accolades over the years. Emirates is equally committed to giving your pet a safe and comfortable pet travel experience, which is evident in the airline's pet transport policies and its state-of-the-art animal facility in Dubai for transiting pets. When your pet flies on an Emirates network flight, you can rest assured they will receive exemplary Emirates care throughout the journey.
International pet transport encompasses a series of processes, and choosing the best pet-friendly airline is not all of it. There are myriad forms to fill and veterinary visits to complete; an experienced international pet travel agent can help put these processes into perspective and simplify the procedure for you.
Petraveller is Australia's most caring and comprehensive pet travel company, with an incredible 100 per cent country entry success rate. Petraveller believes that every pet is an important family member, and we prioritise safety for your pet above all else. If you plan to travel with your pet, reach out to Petraveller for more information on pet-friendly airlines and a free pet travel quote.